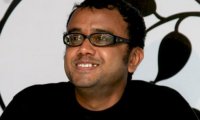 So here's how Dibakar Banerjee describes Ram Gopal Varma - 'A game changer'. Next up, Mani Ratnam - 'Epic', Abhay Deol - 'Revolution' and Anurag Kashyap - 'Indispensable'. So the question - How does one describe Dibakar Banerjee? The answer - 'A mix of all the above'. Need I say more? UK's Harrow Observer columnist and Bollywood Hungama's London correspondent Devansh Patel brings you Part 2 of Dibakar's quest for cinema.


Film Festivals


Whenever I go to the film festivals around the world, I look out for the documentary type of films and small films which are alternate cinema. There were two films which caught my attention at the Munich Film Festival. One was an Italian film called Videocracy. It's about the power of television in trusting a political agenda down on the people of the nation as the political propaganda. The second one was a docu-drama called Defiant Brasilia. It's about a girl from a lower middleclass neighbourhood in Brasilia who wants to be a participant in Big Brother. It follows the journey of this girl. I was looking for films like these. Both these films prepared me for the political thriller I'm making next.



Bollywood writing is entertainment style, not cinema style

Writers in Bollywood


Writing in Bollywood is changing. I can say this because I am speaking from my personal experience. Let's say, Urmi, my co-writer on Oye Lucky... became the creative producer on LSD and she will be writing my next political drama. She will also be a producer on my future film which she and I are developing. When you see writers like Jaideep Sahni or Anjum Rajabali, who are on the top of their game since years. They have enough professional goodwill to dictate their terms on what they are doing. They are changing their style of writing too. Bollywood writing is entertainment style...not cinema style.


Political thriller


My next film is a political thriller. A true life incident that happened in Greece in 1963. A book was written about the same in the year 1966 and we have negotiated the rights for that book and are adapting that into an Indian story. It's about a political assassination but it also portrays an underlining message that how politics means different things to different people.


Approachability


Whoever calls me, I ask them to simply send me a registered screenplay. You will be surprised, only five to ten percent follow it up. Most of them are about the guys who want to narrate me a story or an idea or a concept. That doesn't work for me. I would rather work on my own concept and own story. It takes time to build a concept into a story and that into a screenplay. It takes a year and a half to do that. I am most welcome to new writers writing for me as long as I get what I want. Within six or seven months of reading the script, I definitely send a feedback. For the content to find the right form, the story has to be with me for a year at least. There are some films which shoot the script and there are some which filter the script. The latter is the kind of film I would like to make.


Imran Khan


Imran isn't a young protégé. He is a young talent of our industry. I wanted to work with him on a political thriller, but at that time, he was looking for a romantic comedy to work on. Therefore, it didn't work out. It doesn't also mean that because I've worked with Imran Khan on two Coke commercials, that I'll jump on to him to do a feature film together. The actor too has to look at his own career graph more than just say 'yes' to all films coming to him.



It doesn't also mean that because I've worked with Imran Khan on two coke commercials, that I'll jump on to him to do a feature film together

Abhay Deol


I really want to work with Abhay Deol on this one (political thriller) and am trying to work the dates out. There is a surprise casting that I'm hoping to pull it off opposite Abhay Deol. And that I will reveal when I find that person and lock him or her in.


Click here to read the first part of this feature
BOLLYWOOD NEWS
Catch us for latest Bollywood News, New Bollywood Movies update, Box office collection, New Movies Release , Bollywood News Hindi, Entertainment News, Bollywood News Today & upcoming movies 2020 and stay updated with latest hindi movies only on Bollywood Hungama.