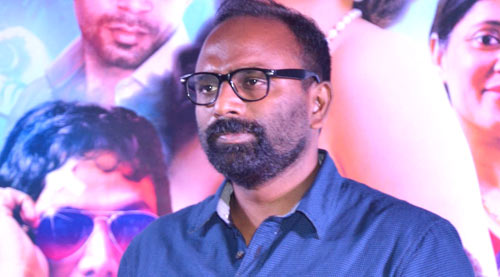 Bollywood Diaries could well be director K.D. Satyam's own life story. For a man from Chattisgarh who has traveled across the country, the final landing was Mumbai. It wasn't without its share of incidents though. Fighting off battles that were both internal and external, Satyam persisted well to gather team and resources which were as passionate as him when it came to unraveling a tale about common people from different walks of life and with a common dream - Bollywood. Over to the man, who has brought together Raima Sen, Ashish Vidyarthi and Salim Diwan in this film which is produced by Dr. Sattar Diwan and backed by Zee.



As a director, what is it that excited you about putting together Bollywood Diaries?

Look at Bollywood around you; for us Indians, its impact is far more superior when compared to Hollywood. We contemplated a lot on getting the right title to get the correct essence of this phenomenon called Bollywood. If I sum up the title Bollywood Diaries, it is not an individual's diary but an amalgamation of many stories. If you talk to even ordinary people, you would see that everyone has a hidden diary of Bollywood. It could be written on paper or impressed in the mind, but it is there. Someone follows an actor silently, another thinks about an actress, third sings in a bathroom. The film is about them.



Guess industry too has made notice of the film already?

Director Sudhir Mishra has watched the film and he complimented it by stating that the film is a moving depiction of dreams. He caught the point around the impossibility of many such dreams. Choreographer-director Remo D'Souza felt that the film summarizes the life story of many Indians across nook and corners of the country who truly believe that they have it in them to make it big in the tinsel-world. Above all, Zee loved the film. They rule in this segment where content driven cinema is made in controlled budget. They recently released Nana Patekar's Natsamrat and I am glad they are backing and endorsing my film.



You have an unusual combination of Raima Sen and Ashish Vidyarthi for the film?

For the part of a Sonagachi prostitute, I needed an actress from Bengali background. Raima's name was being very strongly recommended and I could see her reacting very positively during the narration. She is someone who is so capable and I am glad that she came on board. As for Ashish's part of a retired Government servant, who is now trying to get to a point where he hasn't so far in his life, I needed someone of that age. Ashish fitted in the bill. I shared with him my inspiration of this part, a man named Hari ji from Satna, who was doing a course in direction at an age of 60. This is where Ashish was sold to the idea.



On the other hand you have cast a newcomer, Salim Diwan, for the part of a youngster who carries Bollywood dreams?

Reason being that in him, I saw this genuine love for acting. He comes from a big business family. He came down to Mumbai and then also did an acting course with Kishore Namit. He is rich and he can afford to splurge. Still, he is so grounded and goes out for auditions. He may not be a conventional hero per se but it is his passion that keeps him going. He is not doing films for money; he just wants to come on screen.


For someone who is finding his way in Bollywood, it must have been no less a challenge for you too to make the film.

The challenge wasn't as much during the making of the film as it was before that when I was getting it right at the conceptualization stage. I had to be sure what I was going to tell, about whom and to whom. There were two routes I could have taken, an intellectual one or a commercial one. I chose the latter and once I was set for that, I didn't confuse myself on that. See, when you take a film into an intellectual zone, it needs a completely different treatment with limited returns. Filmmaking involves commerce as someone has invested in the film and wants to earn out of it. I had to ensure that the film entertains.


The film has released today. You must be anxious?

Over the years I have learnt that I am in a profession which is completely unpredictable. Every Friday when a movie comes out, you really don't know what would happen. Yes, you have to create buzz and noise before the release, it is pretty much required. However, eventually it is the audience that decides whether a film is worth watching or not. So through you, here is my message for my audience - 'This is a very public film and it is about common people. So come and see the story, if not about you, it could well be about your neighbor next door' (smiles).


What happens next?

Guess in my own Bollywood Diaries, it is one dream at a time! Let this chapter of my diary be told to the audience, and then my next would be out there as well. That said, I can assure that it would be as interesting as my life has been. It would be a humane story for sure.
BOLLYWOOD NEWS
Catch us for latest Bollywood News, New Bollywood Movies update, Box office collection, New Movies Release , Bollywood News Hindi, Entertainment News, Bollywood News Today & upcoming movies 2020 and stay updated with latest hindi movies only on Bollywood Hungama.