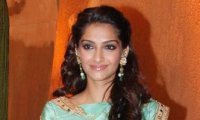 Yoga Guru Baba Ramdev has been all over the news in the past week first for his fast-until-death against corruption and then for the midnight raid launched by the police at the Ramlila Maidan detaining the yoga guru and dispersing his followers assembled to support his anti-corruption campaign.


You can support him or oppose him but you can't ignore him and nor can our B-Town celebs. They have been expressing their opinions on the micro-blogging site Twitter, while some stood up for him, the others criticized him and quite a few celebs slammed the government and Delhi police for endangering the lives of innocent people who were at Ramlila grounds on Saturday night.


Sonam Kapoor: "I prefer Baa Baa Black Sheep over Baba Ramdev"
And when Sonam was accused by a fan of being rude, she replied "As rude as you should be to a sexist homophob!"


Vivek Oberoi: "Watching the police tear gassing innocent unarmed protesters, women and children at risk; very scary; with such huge crowds it looks like a recipe for disaster"..."Watching disturbing images of injured, crying women and elderly people. Violence is never a solution. What happened to our Gandhian legacy of ahimsa?"..."Is this how the world's biggest democracy should behave? I'm very upset watching these images of brute force being employed on innocent protesters."


Raveena Tandon: "This country gives everyone the Right to protest! remember? If murderers, terrorists are invited 2 join politics, why not a island owning baba??"


Shekhar Kapur: "In this one stupid act the govt has sent the message that peaceful protests no longer work and opened the road to violence. 50,000 Indian citizens r victims of police brutality for the crime of wanting 2 express their anguish at the corrupt system."


Preity Zinta: "A dark and sad day for India! How dare the cops tear gas and lathi charge women, children and peaceful protesters against corruption! Not DONE!"


Celina Jaitly: "Corruption cannot be battled by the bhook hadtaals of these self-proclaimed leaders with a personal agenda. Every one cannot be Anna Hazare. Corruption has to be battled within every Indian citizen. Are u willing to stand in a line? Are u willing to sit for an entrance exam and get into a good college without paying donations? Are u willing to not deficatepeespit on your own streets? Throw garbage into cans? Pay taxes? Most of all vote?"


Anupam Kher: "Four cabinet ministers leave their offices to meet Baba Ramdev at the airport to stop him from going on fast. Strange, comical and fishy.:)"..."It is shocking to see how police and authorities have behaved with the crowds at Ramlila Maidan. It is unfair and undemocratic. SHAME. Anna Hazare and Baba Ramdev are two sides of the same coin. Heads or Tails.. We will win. Follow them and their crusade.:)"..."I liked Baba Ramdev's body language on tv walking to pvt jet. He looked focused and determined. Bheegha Hua Aadmi, Baarish Se Nahi Darta.:)"


Ranvir Shorey: "Shameful state of affairs. The government has turned Ramlila grounds into a mini-Tahrir. All on their own. The people want the government to be corruption-free. The government says it wants to be corruption-free. Where's the need for tear gas?"


Vishal Dadlani: "Ramdev is an irritant, and his political views are notoriously nonsense-based. But, charging a peaceful crowd? What was it? Col Dyer Diwas?"..."I heard Ramdev at Anna-saab's rally. He specifically said we need to abolish English education in India. I don't agree at all. Having met him, I think he'll do anything for mileage, and has conducted this event only to try and duplicate Anna's recent (hugely publicised) success. And surely, I'm allowed my opinion. No?"


Pritish Nandy: "I am no Ramdev supporter. But this is wrong. In fact, this is a dangerous sign of govt intolerance...Truly shameful, the police attack on Ramdev's peaceful satyagraha (stand for the truth). Brutal. Who took this stupid call? Who will defend this assault on democracy? Who is capable of coherently explaining the action?"


Anubhav Sinha: "If Ramdev should stick to yoga then Mr Sibbal should stick to law. If the man motivates hundred thousand people he has the right to question specially when the question is so pertinent"..."Repeating, I am not a great Ramdev fan. But what is imp is He is asking the question and he can motivate people to stand by him"


Ram Gopal Varma: "Since I am not into Babas I don't know who Ramdev is but the brand new fad seems to be fasting for fame. Purana picture Anna hazaare media theatre se nikalgayi aur naya picture Ramdev lag gayi"... "Since I am very ignorant on these matters can someone please educate me if Anna Ramdev and Baba hazare are fasting for the same cause..Cnsdrng our grt indian mentalty mre thn Hazares Ramdevs fasting v mt gt btr rslts if sharuk khan rajniknt sachn tndlkr nd katrina kaif fast...Also celebrities won't mind fasting as anyway they are already into dieting. Its good to know that even Babas can be given Dhokaas. The Government should fast against the people who are fasting against it".
BOLLYWOOD NEWS
Catch us for latest Bollywood News, New Bollywood Movies update, Box office collection, New Movies Release , Bollywood News Hindi, Entertainment News, Bollywood News Today & upcoming movies 2020 and stay updated with latest hindi movies only on Bollywood Hungama.