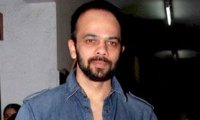 If one thought that Bol Bachchan would be an out and out comedy then hold on. That's because the man at the helm of the affairs is none other than
Rohit Shetty and the Singham director has ensured that action finds good place in Bol Bachchan despite it's light hearted genre.


"It is as simple as that, you can't take action out of Rohit. When did the genre matter to him when it came to making those cars fly away in air", quips a
close associate, "Even for Bol Bachchan, there are some elaborate action sequences that Rohit has already conceptualised. He keeps getting those
innovative ideas and puts them in force. Ajay and Abhishek are prepared to be a part of these stunts which in all likelihood would feature cars again."
One can well expect these claims to be true if Rohit's past track is any indication. Since Singham boasted of rustic action and his debut film
Zameen was a hijack drama, it was expected that action would form a core of both the films. However, each of his three Golmaal flicks as well
as All The Best and Sunday have boasted of liberal doses of action despite belonging to comedy genre.


When contacted, Rohit confirmed that there would be action in Bol Bachchan as well. "Yes, there are a few sequences that I have devised. It is
required as a part of the script. Now I have to bring them into execution", he says.


Given the fact that it's original inspiration Golmaal (Amol Palekar, Utpal Dutt) didn't even feature a slap and only had a chase sequence towards the
climax, one wonders what would be the other action sequences that would be included in the 2012 version Bol Bachchan.


However, quiz Rohit about varied ideas that come to his mind when it comes to some of his trademark action sequences and he smiles, "See, for every movie
there is something new that just strikes me. I could be watching TV and end up observing something that could be inspiring. Or may be I would be driving a
car and suddenly something may interest me to convert it into an action sequence for my film. Inspirations could be all around."


He shrugs away a charge that often comes his way which is about his films boasting of excessive action sequences even at places where it may not really be
required. "What charge? It is not a court yaar where a jury is out on me", he smiles, "Ultimately a film should do well and if the package counts then I
won't shy away from action."