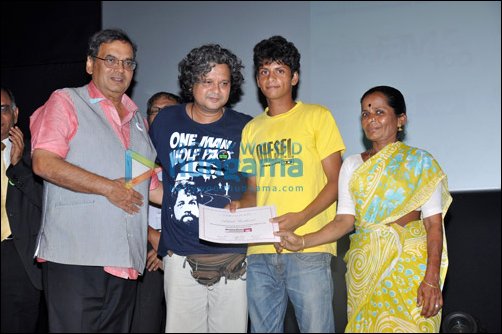 In a world striven with sagas of despair and defeat here is a heartwarming story of the triumph of the underdog.

Meet 18-year Ashish Gakwad, filmmaker Amole Gupte's god-son, who has just made a 10-minute short-film titled Tahan (thirst) on the water shortage in Mumbai and how it dehumanizes the city. On the basis of his film Ashish, the son of a widowed sweeper, has secured a two-year scholarship to learn filmmaking at Subhash Ghai's Whistling Woods film academy.

When one spoke to the boy he could barely contain his emotion.

Said Ashish, "I don't know how such good things are happening to me. My father died when I was 4. My mother is a sweeper in the BMC. She could barely manage to make a living. She tried to bring me up to the best of her means. It was Amole Sir who gave my life a sense of direction. I was only a child when I acted in Amole's Sir's film Aansoon Bane Moti. I also participated in the making of Amole Sir's children's film Ummeed. Then when he saw potential in me he let me make my own film."

Why Tahan? Explains Ashish, "Tahan in Marathi means 'thirst'. Water is such a problem in Mumbai. A majority of us in the slums don't get drinking water and many have to pay for water. I was disturbed by this lack of basic amenity. That's why I made the film. That it has been liked by someone as big as Subhash Ghai is my good fortune."
Subhash Ghai announced a 100 percent free scholarship for Ashish Gaekwad for his diploma in cinema at Whistling woods.

Says Ashish gratefully, "Subhash Sir called my mother on stage while announcing the scholarship. It was the happiest moment of my life to see my mother so happy. She has struggled a lot to bring me up. More than myself I am working hard for her. Mehnat to karni hi padegi. I have a long way to go. I want all youngsters from humble backgrounds to know, it is possible to change the course of your life if you seek the right path.I found Amole Sir. He showed me the way."
Bursting with filial pride Amole Gupte said, "My boy Ashish Gaikwad starts at Whistling Woods on July 12. This is a huge triumph for me. A BMC sweeper's talented son has found his bearings. What more can I ask for? I hope I am able to put many more such god-sons into the world. Ashish is the senior-most student of my school
Aseema
. He made his film
Tahan
as my birthday gift in September. It was the closing film at the
Cinema 100
celebration at Subhash Ghai's Whistling Woods academy. When Subhash announced Ashish's scholarship my chest swelled in pride. We need to create a society where more many more Ashishs find their level."