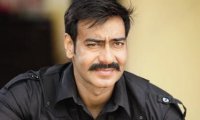 It's not often that you get a chance to interview two actors who together combined have more than 50 years of experience in Bollywood. Despite being quite different from one another, they do share many similarities as well. For starters, both come from filmy families and yet have had to struggle to make a name for themselves. Both are known for their intense on-screen performances and their no-nonsense approach towards work. Both have excelled in every possible genre from action to romance to comedy. Both have pretty much stayed away from unnecessary controversies in their long standing careers. And last but not the least, both are not just actors but also producers with a great understanding of cinema. Yes, we are talking about Anil Kapoor and Ajay Devgn, two of the finest and most versatile actors of Hindi cinema who have stood the test of time. In a freewheeling chat with Bollywood Hungama's Nikhil Ramsubramaniam, the duo talk about their film Tezz in which they share screen space for the first time in their careers. You don't wanna miss reading this one…
You both have been in this industry for a long time and yet this is the first time that you are working together in a film- Tezz. What took you so long to come together for a film?
Anil- Sometimes things don't work out the way you want them to. With Tezz, it all came together beautifully- the right script, the right characters and the right director. That's one of the reasons why we have come together.
Ajay, you had a fabulous last year with Singham and now Tezz is your first release this year. How is the general vibe?
Ajay- Well, I've been out since the past 50 days shooting for Son of Sardaar in Punjab. In fact I was asking Anil what the buzz is like? Right now we are just a few days away from release and are promoting the film to create awareness. The promos have got a very good response so far, let's see how the film fares, we are keeping our fingers crossed.
From the promo, your character seems to have shades of grey, more like the anti-hero. Could you tell us a bit more about your character?
Ajay- I can't tell you if it's grey or black or white. For that you will need to see the film. It's a character who has been wronged and wants back what he feels is rightfully his. It's not about him being a terrorist, it's his fight against the system and Anilji's character represents the system.
Anil, you play a suave cop, what is it that got you excited about this role?
Anil- Sometimes while writing a script, you keep working on and on to flesh out a certain character and that's how the writer and director of this film created my character. You can't just call my character as someone who represents the system and is fighting for the security of the country. There is something very fresh and unique about this character which you will realize when you see this film. I really enjoyed playing this character. It's something which I haven't attempted before. Mostly I have done roles like Ajay's character in the film who fights against the system so for a change it felt nice to represent the system (laughs). These kind of roles can be very boring but I've tried my best to make it quite a colourful character.
Both of you have worked with Priyadarshan (Anil in Virasat and Ajay in Aakrosh) in the past, how has it been this time around?
Anil- Well, it's been fun. We've had our share of agreements and disagreements during the making of this film but overall I think we are happy with the final outcome. I think it is definitely one of his best films. This is a genre that he hasn't really explored in the past so I am looking forward to see how people react to the film.
Ajay, this is the 3rd time you are paired opposite Kangna after OUATIM and Rascals. How has been the experience this time around?
Ajay- It's been pretty much the same. Kangna is a through professional, a very sweet person and a good actress. So it's been a nice experience working again with her.
Ajay is paired opposite Kangna in the film, so Anil did you miss having some female company in the film?
Anil- I had my wife Sunita during the making of the film (laughs). She was there in London while we shot Tezz.
Tell us 3 qualities that you admire the most about each other.
Ajay- For Anil, I'd say his honesty towards work, his dedication and his understanding of cinema.
Anil- What I like about Ajay is that he is instinctive when it comes to understanding and portraying a character correctly which is very unique. He has a magnetic screen presence. Of course I also love his voice and dialogue delivery and his intense eyes
Coming to the action of the film, what unique stunts can we see this time around?
Ajay- I don't know what unique means but the kind of chases and stunts this film has is comparable to any Hollywood film.
Anil- There is a fist fight, there are some crazy car and bike chases and there is a Parkour sequence which has come about really well. When I saw it on screen while dubbing, I realized how good it looks. As a matter of fact, even Zayed has also done a phenomenal job in this film.
The film has quite a mammoth star-cast but one name that stands out is that of superstar Mohanlal. How was it working with the legend from down South?
Anil- I have no scenes with him in this film unfortunately. I had done a guest appearance in one of his Malayalam films called Chandralekha which was also directed by Priyadarshan. He is doing a cameo in Tezz and we are really honoured and happy that he has graced our film. I am sure his fans won't be disappointed because he has done a fabulous job even in a small role like this.
Hollywood films these days are proving to be quite a big competition for Bollywood films. Tezz releases this week with one of the biggest Hollywood films The Avengers. Is that a matter of concern for you guys?
Anil- Not really. India as a market for international films is still very miniscule when compared with other countries of the world. Of course the market for Hollywood films here is expanding and I am happy that they are taking India very seriously as a market and doing their best to promote their films here and have a share of the pie from the Indian market. In the days to come, I am sure India will be as big a market for Hollywood films as are some other countries but at the moment it's not as big as you imagine. There is still a long way to go.
Finally a bit about your forthcoming projects?
Ajay- After Tezz, I have Bol Bachchan which is a Rohit Shetty comedy with elements of action. Then there is Son of Sardaar which is again a romantic comedy with action.

Anil- I am busy shooting for my films Race 2 and Shootout At Wadala. For Race 2, I am going for a long schedule in Turkey and Cypress in May and June. I am again reprising the role of Inspector Robert D'Costa, the fruit-loving cop, only this time Saif and I are richer after all the booty we got last time (laughs) . Shootout At Wadala is really shaping out brilliantly and I feel its Sanjay Gupta's best work till date.
What is the status on the Hindi remake of 24?
Anil- Well this year, I will hopefully start shooting for the pilot sometime in July. Abhinay Deo is the director for the show.
BOLLYWOOD NEWS
Catch us for latest Bollywood News, New Bollywood Movies update, Box office collection, New Movies Release , Bollywood News Hindi, Entertainment News, Bollywood News Today & upcoming movies 2020 and stay updated with latest hindi movies only on Bollywood Hungama.