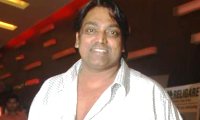 One of India's highly acclaimed choreographer turned director, Ganesh Acharya is on cloud nine. The reason is Angel, his third directorial venture released all across India. But unlike his chat-pata songs which he choreographs (Dabangg and Golmaal 3 title tracks and 'Zor Ka Jhatka' from Action Replayy to name a few), the big man has an even bigger heart when it comes to subject matter of love. So while researching for his story, Ganesh was surprised to know that in today's fast paced life, youngsters have forgotten the essence of love till he came across a girl in a coffee shop with her boyfriend. Within a few minutes, what Ganesh Acharya saw changed his notion about love. Angel was born right at that moment. UK's Harrow Observer columnist meets the man who is dancing to his own tunes as of now. A true Angel in every way, Ganesh Acharya is ready to spread his wings.


"Angel is a youth driven film"


I am a hardcore commercial choreographer. But somehow when people see my films, they think I am not commercial. My earlier film Swami didn't have any songs. Swami was the real Ganesh Acharya and Angel too is the same Ganesh Acharya. Angel is a youth driven film. It took me two years to make Angel. I worked hard on finding the right script. I saw my weakness. But I found my strength too. I found that youngsters have forgotten what real love is. They are so busy in their own careers and professions that they cannot find true love. I knew then that Angel is the right film for them, just like Sadma, Chandni and Qayamat Se Qayamat Tak was to the youngsters back then.


"Angel's idea was born in a coffee shop"


Angel's content is different and to do justice to the content, I never wanted to take my film to a big banner. So I thought of producing the film myself as I was free to do what I want. I was sitting one day in Cafe Coffee Day with my writer. We saw a couple entering the coffee shop. The girl was on a wheel chair and her boyfriend lifted her. She was looked by many with mercy but that girl was having so much fun with her boyfriend that we were shocked to see that she was least bothered about her physical condition. That's when I spotted real love and Angel was born.


"Angel is not a dark film"


Angel brings out the brightness in a physically challenged person. I have captured the happiness in them and not their sorrows. I went to the Nanavati hospital to meet Dr Ali Irani who works there as a physiotherapist. He showed me ten such patients who were suffering from Cerebral Palsy. When I saw a girl there, I was touched to see how she was enjoying her life now compared to her life six months ago. Angel is not a dark film. The heroine of my film is not an Angel; it's the boy who comes in the form of an Angel to her. And at one point, the boy gets stuck somewhere in life and the girl comes in the form of an Angel to help him overcome his problems. Angel is that story.


"I haven't kept any premiere of Angel"


My dearest friend from our film fraternity, Akshay Kumar, had promised that he will attend the premiere of my film on the 4th of February but then my film got pushed to the 11th of February. The problem is that his film, Patiala House too releases on the same day and thus he backed out. On the other hand, Nilesh, Sanjay Dutt's nephew too couldn't commit Sanjay's attendance as he is busy shooting his film Rascals in Bangkok. So I decided to cancel the premiere plans and go for a special screening.


"I never wanted any well known faces for Angel"


I never wanted a film where I cast a well known face for a film like Angel because people come with preconceived notions. In Guzaarish, many people couldn't see Hrithik physically challenged, no matter how well he perform. I never knew that Nilesh Sahay was Sanjay Dutt's nephew or Madalsa was Sheila Sharma's daughter when I met them first. I first recorded the songs of Angel and then took auditions.


"We found our lotus in the form of Madalsa"


I took Madalsa's audition before I cast her for Angel. I wanted a lotus like girl in the film. Aseem Bajaj, the cinematographer of my film thought that she isn't the right girl for the film but when I looked in her eyes, I told him that we found our lotus in the form of Madalsa.


"Nilesh talks too much and that worked in favour of him"


My friend sent some boy named Nilesh to meet me in Yash Raj studios. He came and started talking non-stop. I immediately decided to cast him and called my friend and told him that Nilesh Sahay is apt for the role in Angel. He talks too much and that worked in favour of him. That's when my friend told me that he is Sanjay Dutt's nephew.


"My next film will have action and dance in plenty"


My next film will be a full on dance film. It'll be a dance film with a difference. It will have Ganesh Acharya style of dancing. I am also planning to have action in it. So it'll be India's first action and dance film to come out on celluloid.


"Big stars cannot predict our box office anymore"


I am a small technician of Bollywood. I have made a film with new comers and I want that all our established director's work with new comers too. Times are changing and you need to find raw talent hidden somewhere. The times are gone when a big film with big stars used to do well at the box office. Last year taught us a big lesson and I hope we learn from our mistakes.
BOLLYWOOD NEWS
Catch us for latest Bollywood News, New Bollywood Movies update, Box office collection, New Movies Release , Bollywood News Hindi, Entertainment News, Bollywood News Today & upcoming movies 2020 and stay updated with latest hindi movies only on Bollywood Hungama.