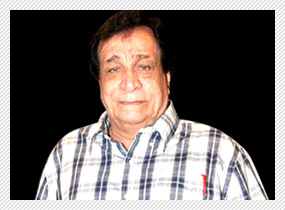 They say that 'Stars are born, not made'. Well one such 'Born Star' is the legendary Kader Khan, who is magical not just in his onscreen performances but also his writing. After having everyone floored with the first part of the interview with Kader Khan, here's presenting the much awaited second part only on Bollywood Hungama.


Khan saab, even though you were awarded twice by the AFMI (American Federation of Muslims from India) for your achievement and service to the Muslim community in India, do you feel left out by the Indian awards here?

I have nothing to say about that. The only thing that I can say is that maybe that's why I have started going to Canada to start my Arabic and Islamic classes.


You had also started the much talked about 'KK Foundation'. What's the status today of the same?

'KK Foundation' is very much in action. We are in the process of doing many things under this banner. To start with, we have devised an Urdu course whose durations are of 3, 6, 9 and 15 months. We will plan thereafter what to do next.


Today's actors are also trying their hands at producing films. You too had produced a film called Shama. How was the experience?

Without mincing words, let me tell you that the experience was very bad. Through the making of this film, the lesson that I learnt was that if one has to make a film, it better be a bigger one. Even after Shama, I thought of making Jaahil with Amitabh Bachchan playing the lead role. While it was very tough to find a distributor for Shama, there were as many as 15 distributors lining up for one territory of Jaahil! But unfortunately, that film never got made.


You even acted in TV serials like 'Hasna Mat' and 'Hi! Padosi... Kaun Hai Doshi?'…

Over these years, what I realized was that the TV stars tend to dominate the producers of the serials in a big way, so much so that they have a fight almost everyday. They keep poking their nose in every aspect of the serial, which leads to the hampering of the same. It was this behavior that just did not gel with me. That's why I stopped doing TV serials.


Does that mean it's a total full stop to TV?

Not at all! Even today I am game to do TV serials, provided the producer has the guts to stand by it.


It's true that you have Khan-quered almost every aspect of showbiz. Are there any unfulfilled dreams?

By God's divine grace, I have 'been there, done that'. The Lord Almighty has given me the pleasure and happiness of family, children and my lovely daughter-in-laws and respect from everyone. I still remember that there was a time when we used to die to get just a glimpse of the legendary Dilip Kumar. Today, I only thank God for having given me the opportunity to work with him. All that I want is to ask from Lord Almighty is to take care of my children and give them the position and the recognition that they are really worthy of. I just can't ask for anything more.


You teach Urdu and Arabic to the NRIs abroad. When will you be doing the same in Mumbai?

I will be starting Urdu classes in Mumbai in a couple of months from now.


You are also on the verge of fulfilling your father's dream of starting an Islamic University.

Yes. The said university will be called as 'KK University'. It will be offering a dual programme having Arabic and Urdu as its main subjects. I will be totally concentrating on this project from November, as soon as my son Shahnawaz's film (Nawaabi Sharaabi) gets done.


Not much has been spoken about your beloved wife Azra and your third son Quddus.

My wife Azra is a housewife who manages our family to a 'T'. And as far as Quddus is concerned, he is the eldest son in the family. He works at the Canada airport as a Security Officer.


Was it intentional to keep him (Quddus) out of films?

I never thrust my decision on anyone. It was a mutual decision to keep him out of showbiz. We all know that showbiz is a place where the audience is not just the King, but also the ultimate decision maker. If they like you, they will take you to the top. And if they don't, they will drop you instantly…irrespective of who your father is or what surname you boast of! Quddus is happy in Canada being a Security Officer.


Is there any film that's being planned featuring the whole 'Khan-daan'?

Inshallah! You never know when we might spring a surprise! Let me assure you that, whenever the time and the script is right, everything will just fall in place!


Can you tell us a bit about your film Nawaabi Sharaabi?

At this juncture, all that I can say is that it's on the lines of Baap Numbri Beta Das Numbri. Nawaabi Sharaabi has 'chacha' and 'bhatija' as the main characters. In other words, there's the chacha here instead of the baap.


Of all the memorable dialogues that have been written by you, which one is the most memorable?

It has to be the famous dialogue from the film Muqaddar Ka Sikandar, which is, "Taqdeer tere kadmon mein hogi…tu muqaddar ka baadshah hoga"!


Is it true that Amitabh Bachchan advised you to stay away from politics?

Yes, he was sweet enough to advice me that politics is not a good game and that it was not meant for me and vice versa. He also said that I will not be able to withstand that place. And despite that, if I stepped into politics, he will personally tell people not to vote for me. Amitabh has always been a well wisher of mine, yaar! He never wanted me to get into politics.


What's your message to the zillions of wannabe' script writers out there?

Do not just blindly read the works of literary greats. Even as you are reading their works, try to visualize each and every word. That way, story telling becomes simpler and easier. Also, do make it a point to read the works of the names of authors whom I mentioned earlier. I am not saying that it's a thumb rule to read them, but by reading them, you will understand where your interests lie. And once you get to know your interest areas, writing will become easier for you.


Lastly, what's the message to the readers of Bollywood Hungama?

Let me wish Eid Mubarak to one and all…much, much in advance!


BOLLYWOOD NEWS
Catch us for latest Bollywood News, New Bollywood Movies update, Box office collection, New Movies Release , Bollywood News Hindi, Entertainment News, Bollywood News Today & upcoming movies 2020 and stay updated with latest hindi movies only on Bollywood Hungama.