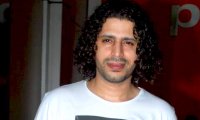 When I speak to Faruk Kabir, the debutant director of Allah Ke Banday, he is still hard at work on the sound mix for the movie about to release in less than a month. He is, true to legend, a raspy-voiced blabbermouth, a torrent of ideas and insights, repetitive and riffling; just like some Indian cinema maestro who sounds like so many of his hallowed characters. Speaking of characters, he is also making his debut as an actor in his directorial venture. That's two for the price of one. And if you thought I was kidding, you're right. It's three for the price of one. Faruk has also written the film. Kabir has three aces up his sleeve. The question is, will he win the bet at the BO post the release? There's an understanding between filmmaker and subject. The result is a remarkable document, a living, breathing and breath-taking portrait of a bunch of bad boys taking up guns when they are meant to take up education, taking up hatred when they are meant to take up love. The consequences results in turning them into bad men taking up crime as their mission. It's a subject ninety nine directors out of hundred wouldn't take up. But Faruk Kabir did take it up as his mission. In times when romantic comedies and love stories aren't the only genres working at the Box Office, here comes a man leaving no stone unturned into making Allah Ke Banday worth a watch for reasons more than just its genre. UK's Harrow Observer columnist and Bollywood Hungama's London correspondent gets you more from Faruk Kabir over a cuppa masala chai, on his New York days as a writer, his co-stars Naseeruddin Shah and Sharman Joshi and why Allah Ke Banday isn't a film about crime but our own society.


Writer Director Actor - Faruk Kabir


"I always wanted to debut as a writer and a director because I think I will end up writing and making my kind of movies. I have spent many years learning the craft of writing and teaching myself, making mistakes and growing with the craft. Beyond being a director, writer and an actor, what's important is to be a good story teller. I feel there are many directors who will aesthetically shoot something for you correctly. A good director knows how to punctuate the text with the camera also. The mind has to connect with the matter which is in the form of a story."


Studying Screenplay


"I went to the New York Film Academy and enrolled myself. I did my screen play courses there and came back. I took a sabbatical and didn't work with anyone or anywhere. I just kept writing in my house with script discipline and extreme concentration for over two to three years."


Fabric of our society


"We are living in a society and times today that is rapidly changing. Psychologically there are more and more factors coming up as far as how Indian society at large is evolving. In that evolution, the evolution of cinema is also happening. The presence has been registered by the films like Taare Zameen Par, Udaan, Rang De Basanti and Khosla Ka Ghosla. All these films reflected a contemporary Indian society. Filmmakers who've made these films have observed the subtle changes in the fabric of our society."



We are today's voice


"Allah Ke Banday falls in the same bracket as the above films. The vibe connects with the masses that it's realistic and it is. More films like these are being appreciated by our audiences. We are today's voice and we filmmakers are voicing the same opinion through our cinema."


The dreaded juvenile warden - Naseeruddin Shah


"Naseeruddin Shah is the ISI mark of Indian films. I wrote a screenplay for six months which I had researched for. I was hoping and was confident that he will probably react to my material positively. Naseer saab took fifteen days to give me that reaction. He called me to his house for breakfast and the first thing he said was, "I want to congratulate you for the screenplay. Now tell me which role you want me to play in your film?" When I gave him the screenplay, he didn't know which role I was offering him. I wanted Naseer saab to react to the story more than his character. That's when I told him, "I want you to play the dreaded juvenile prison warden. He appreciated the role of the teacher too which is played in the film by Atul Kulkarni. These were the two roles he thought he would do."


Sharman wasn't an option


"A couple of months later, when we were beginning to shoot, he was surprised to know that I was acting in the film too. I wasn't hiding anything from anyone. It's just that I decided to act in the film fifteen days before the shoot began. I approached a lot of A-list actors to play my part but many of them wanted to play Sharman's role. Obviously that wasn't an option for them as Sharman was my first and only choice for the character of Vijay."


It's time for a change


"I wanted to take somebody young, he has to be a good actor and thirdly, I can surprise the audience by giving them something more and something else. That's when Sharman came in. It works for the people also and Sharman, both. It works for me too. I have the opportunity now to do something else with an actor who has a set image in front of the audience."



Narration with Sharman


"With Sharman, we did a narration first. There is a structural outline which I make for any narration. I took those twelve pages to him and he reacted to that itself very strongly. Then I gave Sharman the screenplay and took about five days to finish it. He read it twice and from that point on, he wanted to bite into Vijay's character. Whatever little bit he was sceptical about he told me honestly. Like, he wanted Vijay to look grunge without making the character too loud."


Allah Ke Banday


"I feel that the title of the film should always come from the film. You just have to look for it. There is a line in the film where Atul Kulkarni's character says, "Yeh sab Allah Ke Banday hain." It was there and I never thought about it. Later on, when I was again reading the script, I found out that the two boys, Vijay and Yakub don't have anybody else in their life. The only blessing they have is of God. From that thought, I decided to title the film Allah Ke Banday. In a larger picture, the film is a tribute to all the children of the world who are exposed to crime as the society they live in isn't giving them better opportunities."
BOLLYWOOD NEWS
Catch us for latest Bollywood News, New Bollywood Movies update, Box office collection, New Movies Release , Bollywood News Hindi, Entertainment News, Bollywood News Today & upcoming movies 2020 and stay updated with latest hindi movies only on Bollywood Hungama.