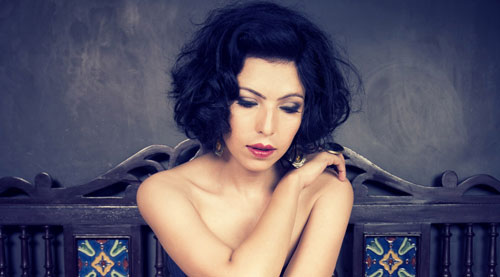 Ever since the time Shilpa Shukla stepped in Bollywood, she has always been appreciated for her choice of roles and the dedication and hard work with which she approaches her every role. She is someone who has never been in the news for any wrong reason. It's only her films and her performance in the films which speaks volumes for the person that she is. After having done a bold role in the hit film B.A. Pass, she is now all set to entertain everyone with her light hearted role in the upcoming film Crazy Kukkad Family.


Satish Sundaresan of Bollywood Hungama met up with the actress for a heartfelt interview, wherein she speaks about her role in the film and her life so far.


Shilpa, to start with, what's your role in the upcoming Crazy Kukkad Family.

I am the only daughter in the family. I have three brothers she is a mad character. Even though she is a grown up adult, her mental age is that of 13 years. Her only dream of a lifetime was to become a Miss India. But because of sibling rivalry, her brother came in between her and her Miss India dreams, which results in her dream being shattered, which also ends up her being married in such an early age. Then, she nurtures of being a 'Mrs. India'. She is ready to fight her way through anyone in order to get her share in the property. She is a 'branded' person so to speak. If she had her way, then, she wouldn't have spared a second thought before indulging into topnotch foreign brands. But since she doesn't have the required amount, she lands up buying the cheap lookalikes of such branded stuff.


What made you say yes to the film?

(Smiles) I simply followed the saying 'After a tragedy there comes a comedy.After the success of B.A. Pass, I got the offer for Crazy Kukkad Family. The timing just couldn't have been more apt than this. It's one of the finest scripts I have heard in the recent times. I always wanted to do a comedy role for a really long time. That's why I simply accepted this role.


How important is the film's script to you?

For me, the script is as important as the film's director and the team with which I am working with.


Was signing up for Crazy Kukkad Family a very conscious decision to break the serious B. A. Pass mould?

Not at all. It was a case of being at the right place at the right time, I was celebrating the success of B. A. Pass and my number was taken by someone at Prakashji's (Jha) office. And then, I came here and the rest is history. And the fact remained that this role came from 'Prakash Jha Productions'. We all know that there is credibility that is always attached to his name. He will never endorse something that is half baked or a story that doesn't need to be told.


We are told that the whole Crazy … team had a gala time shooting for the film in Mahabaleshwar…

It's really true. We even experienced snowfall while shooting. How can anyone forget the lovely strawberry fields which we saw. It was nothing short of a visual delight to watch.


Did you say yes instantly the moment you heard the script or you took your time to give the nod?

You will be surprised to know that when I heard the story, my character had two kids.And I said yes to do the film, even if the kids were there!But the next day, the makers did away with the kids because they felt that my character in the film and the kids did not go well together.I fell for the story, irrespective of the kids or not. I thought this story was such an important story that needed to be told.


How was your rapport with thefilm's director Ritesh Menon?

He is the calmest and collected person one can ever come across. He hardly loses his temper and always smiles. What makes him apart from the rest is that, in Bollywood where people feel that anger is the most important trait, when you see someone as calm as Ritesh, you really feel that its highly commendable.


Any 'crazy' moments during the shoot?

You really have to meet the member of the family to know what exactly the term 'crazy' means. There was nonstop energy during the shoot and even off the shoot. Till today, we are always with each other.


Tell us something about the music of the film…

All the songs are really great. My personal favourite is 'Chaand Yeh' that's sung so soulfully be Swanand. The song comes at a point when the whole family undergoes a change of heart.It's a very cathartic song.


In your opinion, what has been the turning point of your life?

The turning point of my life was when I decided to take a total break from Bollywood in 2010 and go to Benares and Saarnath and be with my family. I had a gut feeling that my family really needed me at that time. That's why I said no to Gangs Of Wasseypur and Gulaab Gang.


Do you enjoy acting now?

Yes, of course. I am more comfortable in my skin now. After Chak De!..I was so very confused about what kind of actress that I am. The fact that I took a break, I was able to understand myself completely.


Which has been the most heartfelt/ memorable compliment of your life?

When the Uttarakhand disaster took place, my friends and I went there to do some plantation and social work. The moment they saw me, they started singing and dancing, while their houses were in shambles because of the disaster. That's when it struck me that I have a better purpose on this earth.


Now, how do people recognize you? Do they still address you as the 'Chak De' girl or the B. A. Pass girl which they used to do before?

Surprisingly, they still recognize me with my characters names. There was time when I was in love-hate relationship with my character if 'Bindiya Naik'. Looking at the connect that this character had with everyone, especially the interiors of our country, then, it started feeling worthwhile of having touched so many hearts.


What will be your parting shot about Crazy Kukkad Family?

It's a rare type of comedy. It's a multi layered film. You will get really involved with all the characters. Every Indian should watch the film. It gives you an opportunity to laugh at yourself, at least once in a while!
BOLLYWOOD NEWS
Catch us for latest Bollywood News, New Bollywood Movies update, Box office collection, New Movies Release , Bollywood News Hindi, Entertainment News, Bollywood News Today & upcoming movies 2020 and stay updated with latest hindi movies only on Bollywood Hungama.