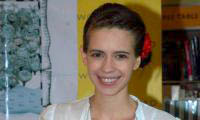 Kalki Koechlin has come a long way after making a sensational debut as Chanda in Anurag Kashyap's modern interpretation of Devdas, two years back in Dev D. She is one actress who doesn't follow the safe route and plays roles that make her stand apart from her contemporaries. She has received great appreciation and commercial success for the films she has done this year. Whether it is the mentally disturbed Amy in Shaitan, the rich - nagging girlfriend in Zindagi Na Milegi Dobara or the desperate Ruth who is in search of her father in That Girl In Yellow Boots, Kalki manages to play each character with ease and perfection.
Kalki will now be seen in Sanjay Leela Bhansali Production's lighthearted comedy My Friend Pinto which released yesterday opposite Prateik Babbar. The extremely talented and versatile actress talks about her forthcoming releases, the chemistry she shares with her co-stars, want to do more light hearted films, her return to theatre, her style statement and more.
My Friend Pinto will be your fourth film this year after Shaitan, Zindagi Na Milegi Dobara and That Girl In Yellow Boots, what are your expectations with this film?
I am very happy with the film. I am smiling a lot because this is a film where you see me in a very different avatar from anything else I have done before. I play a completely innocent, cheerful and naïve Catholic girl in the film. The whole film gives you a sense of wanting to do well for the world which is a very uplifting feeling and that is something we haven't seen recently. Most of the films we have seen recently are very shocking and this is the return of innocence. So I am really excited about My Friend Pinto
Tell us something about the film My Friend Pinto?
My Friend Pinto is about this boy called Michael Pinto, he is from Goa and he comes to meet his best friend in Mumbai because his mother has passed away. The film is about the journey he goes through in Mumbai. Pinto looses himself in the city where he meets different people and starts affecting everybody's lives without meaning to do so. He is like this innocent, clumsy, comical guy. He affects the lives of his married best friend, a don, the underworld and Maggie-the girl that he falls in love with and slowly without trying to, creates a domino effect where all these people end up meeting each other and befriending each other. All this happens on the night of New Years Eve.
How did you get the role in My Friend Pinto?
Actually its really funny how I got this role, a tweet got me this role. I was being offered only dark scripts one after another so one day I tweeted "why am I only getting dark movies? I really want to do a happy film". Raghav Dar, the director of My Friend Pinto, read the tweet and replied back saying "I have a script for you, will you read it?" So I read the script and I thoroughly enjoyed it. It had this very over the top, beautiful, comical angle to it and I immediately said yes.
Tell us something about your role in the movie.
I play the role of Maggie, a wide eyed, very innocent Catholic Mumbai girl who wants to become a dancer. But her mother doesn't let her follow her dreams as she feels the industry is really bad and Maggie will have to compromise a lot to get to the top. Maggie is very sad and she still dreams of becoming a dancer, she is a girl living in the past with her head in the clouds and doesn't realize how corrupt and bad the world is. Then one day she meets Pinto and her life changes. Pinto and Maggie are perfect for each other because they are very innocent and naïve people in a world that has become increasingly corrupt and selfish.
Have you done any dancing sequence in the film?
I have one song with Prateik. It is not a typical Bollywood dance number; it's more like a traditional 50's musical like 'Singing In The Rain'. It has a very old fashion feel to it. We had to learn the Charleston (an American dance form) for this song.
You seem to be a favorite of all first time directors, Bijoy Nambiar (Shaitan), Akshay Shere (The Film Emotional Atyachar) and now My Friend Pinto is also directed by new comer Raghav Dar?
I am happy to work with new directors as they are very enthusiastic and have a lot of new ideas. For me the script comes first, only if I like the script do I find out who the director and producer is. If I love the story and believe in the director then I do the film.
Raghav is really fantastic; he is extremely calm and composed like Buddha despite the set being extremely chaotic. We had a very tiring and tight schedule and he never lost his cool. He was always very calm and always listened to each and every problem we had. I think he has done a brilliant job with the film. He has brought back the innocence that we haven't seen in Hindi cinema since a long time. I just wish him the best.
What do you have to say about your co-star Prateik?
Prateik is excellent to work with. He is somebody who is extremely focused on what he doing at that moment. Prateik is a very urban Bandra boy as a person and for Pinto's character he completely changed that 'dudeness'. He had to become very geeky and awkward. He changed his whole body language and the way he spoke for the film and completely locked himself in the world of Pinto
My Friend Pinto is the first SLB Production that Sanjay Bhansali is not directing, so how was it working with SLB Productions?
It was a great experience. Everyone knows what a perfectionist Sanjay Sir is, so we were expecting that he would come on the sets very often, but he was very clear that he wanted this to be Raghav's film. One because it's a comedy and that is not Sanjay Sir's strong point. He has always said that this is not my film but it is something Raghav has made from his heart. He was very unintruisive, he only came once on the sets for our song 'Take It Easy' and he completely enjoyed watching us and encouraged us. We weren't feeling intimidated by him at all, he made us feel at complete ease.
Tell us something about the music of the film?
The music is really good; it's got a western vibe like the 1950's musicals. One of the most popular songs is 'Dhinchak Zindagi', an uplifting number which is the last song of the movie so it's really fast paced and entertaining. For me, my favorite is 'Take It Easy' as it is the song Prateik and I have danced to and I have very good memories of that song. National award winners Ajay-Atul have composed the music of the film. They have composed music for many Marathi movies and are huge in Marathi Cinema. This is also the first time they have done something western which is very different, so it was very exciting for them too.
Tell us some funny incident that took place on the sets of the movie?
There was one very funny thing that happened, Prateik and I have this very sweet and romantic scene where after a song and after the rain has stopped, he is walking me home and we (Pinto and Maggie) have this really sweet conversation about our dreams and life. It's a very soft, sweet and quiet scene. We were shooting the scene at 2 in the night and every time we would start our dialogues a cow would go 'Mooooooooo' really loudly. This went on till four in the morning. We were later informed that, the cow was giving birth, so we had to wait for the cow to give birth before we could continue shooting.
Could you tell us something about your forthcoming films?
My next film is Shanghai which is Dibarker Banerjee's film. I have just finished shooting for it. Shanghai is a political thriller where I play a young political student called Shalini, who is very passionate, and acts before she thinks and lands up getting into a lot of trouble.
Whom are you paired opposite in the film Shanghai?
Actually there is no pairing as the film is not a love story. The film has three different tracks, one is Abhay Deol's track, one is Emraan Hashmi's track and one is mine. Our characters hardly connect; I have only one scene with Abhay.
You have your first co-star Abhay Deol with whom this is your third film after the two hits Dev D and ZNMD…
Everybody keeps teasing us and telling us to do a big romantic film together but we are both not the kind of people to do that. It's been great to work with him; he is somebody who helped me so much in Dev D as it was the first time I was in front of the camera. He has taught me a lot of things and its great that now we are enjoying each others chemistry as actors.
What about Emraan Hashmi? This is your first film with him.
I have quite a few scenes with Emraan. I have more scenes with Emraan than with Abhay. He is fantastic person. Initially he was very quiet and reserved and he kept to himself but he is very sweet once you get to know him.
You wrote the story for That Girl In Yellow Boots, any new scripts you have written?
No, I haven't written anything new as I am very lazy. I have been trying to write a play but that is only half complete. To be honest I have not had that much time because I have been busy with my work in films. Next few months I am only doing theatre so I am looking forward to getting back to writing.
You are also one of the few well dressed actresses; Fashionista's love your style. How do you define your style?
I am very moody in terms of my style, it changes everyday. Sometimes I feel like being very grungy so you will see me in torn jeans other times I feel like being very pretty in a soft flowery dress. It completely depends on my mood. Since I am an actor, I tend to pick up a bit of from my characters and have a different personality all the time. I change my style a lot, I like experimenting with new things and exciting new styles.
What are you most comfortable in?
Floral cotton dresses.
Fast Five:
Who is your favorite Bollywood Actor and Actress?
I love Aamir Khan for the kind of work that he does, he is always surprising us and Ranbir Kapoor as he is one of the young actors who is doing very exciting work. In the actresses, I have always loved Tabu's work and Priyanka Chopra is somebody who has really pushed herself and evolved a lot in the last few years.
Which is your favorite Bollywood movie?
I am a huge fan of Guru Dutt films and Pyaasa and Sahib Biwi Aur Ghulam are my favorite films.
Which director did you enjoy working with the most?
The most recent director I have worked with is Dibarkar Banerjee and I think the one you work with most recently ends up being your favorite as the memories of working with them are still fresh in your mind. Dibarkar is a perfectionist and has pushed me so much as an actor. It is exactly what I want, I want to be challenged and pushed.
Best Dressed Actor and Actress.
I like Abhay Deol's style a lot. Amongst the women I really like Sonam's dressing. She dresses very chic but very well.
Favourite fashion label.
I am not very brand conscious when I buy clothes, I love bargaining. But if I had to name an Indian designer I really admire then that has to be Sabyasachi. He is incredible.