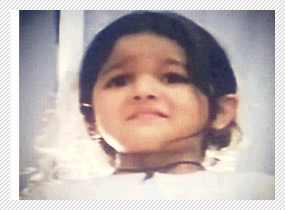 This week's release, 2 States, stars Alia Bhatt in the female lead - a
self-made actress who has yet to work with her home banner of Vishesh Films. But technically,
that's not really true - because Alia started off as a kid of seven, playing Preity Zinta's
childhood in their 1999 film Sangharsh!
In the world of Hindi cinema, this is by no means an isolated phenomenon, though there is always
that difference in terms of how and why the actors did their films. That is, whether they were
quick-fix rare solutions by family members for practical needs or whether there were other
reasons for their appearance. Mysteriously, not all examples were well-known.
Taking the one-off examples like Alia first, few noticed the young boy participating in the
qawwali 'Muddat Hui Hai Yaar Ka Armaan Kiye Hue' in Sunil Dutt's Reshma Aur Shera
(1971). A decade later, he was to appear as Sanjay Dutt in Rocky!
Anil Kapoor, however, had a stroke of bad luck when his only film as a child actor, Tu Payal
Main Geet, starring Shashi Kapoor and Saira Banu, remained incomplete in the early '70s. But
Bobby Deol is still recalled as the cute, very young he-man who effortlessly lifts an axe (made
of cardboard, as his father revealed!) and grows up to his father, Dharmendra, in Manmohan
Desai's Dharam-Veer!
And how many are aware that Ajay Devgn, today's angry action man, played a docile and protective
brother in Pyari Behna (1985), the moderately successful Bapu-directed melodrama? A
background theme song composed by Bappi Lahiri was also filmed on him in this Mithun Chakraborty
movie, 25 years before Bappi and Mithun joined forces in the adult Ajay's Golmaal
3!
Occasionally, however, the one-off example extended to two or more films. We all remember the
three kids walking in the rain during the classic Raj Kapoor-Nargis song 'Pyar Hua Ikraar
Hua' from Kapoor's own Shree 420 (1955). Most people know that they were Randhir
Kapoor (then 8 years old), Rishi Kapoor (3) and their sister Ritu (6). Later, Rishi Kapoor was
actually conferred the National Best Child Actor award for his role of the adolescent Raj Kapoor
in Mera Naam Joker (1970) when he was all of 18!
Randhir too did one more film, Sheikh Mukhtar's Do Ustad (1958), in which
he played Mukhtar's childhood in a story that had his father Raj Kapoor as the other hero. The
interesting trivia here is that when Salim-Javed refashioned the film as Haath Ki Safai
(1974), Randhir essayed his father's role!
Not many also remember Hrithik Roshan, who was seen dancing away with elan and just like
Jeetendra (the hero) in the Rafi chartbuster 'Jaane Hum Sadak Ke Logon Par' from his
grandfather J. Om Prakash's blockbuster Aasha when he was just six! This was followed by
another cameo in the same year in Aap Ke Deewane, his father Rakesh Roshan's maiden
production. Hrithik's abilities to dance were already coming to the fore, and he was seen
tangoing in grandpa's later films, Aas Paas and (the Punjabi) Aasra Pyaar Da.
However, junior Krrish was seen in his first meaty role when father and grandfather came
together in the 1986 Bhagwan Dada. His action scene with Danny Denzongpa when he rescues
Tina Munim and his death sequence later were magnificent, considering he was just 11 when
shooting began, proving that dancers and action heroes are all to the manor born!
Two more examples of kids doing family pictures are the uncle and nephew team of Aamir Khan and
Imran Khan. While Aamir can be seen as the smart kid who later grows up to be Tariq (also a
relative) in his uncle Nasir Husain's super-hit Yaadon Ki Baraat (1973) at the age of 8,
he acted a year later in his father Tahir Husain's Madhosh as well.
Imran Khan, in turn, was to play Aamir as a kid in both Qayamat Se Qayamat Tak (1988) and
Jo Jeeta Wohi Sikander (1992). During the former film, Imran was just four when shooting
began!
Tabu was spotted in a song in Sagar Sahadi's Bazaar (1982) but did just one featured role
as a child star - in Dev Anand's Hum Naujawan (1986) as the adolescent who has a crush on
him!
Tanuja did a small role in her mother Shobhana Samarth's Hamari Beti (1950), which also
marked the debut of her older sister Nutan in the lead. But what was more exciting for this
fiery mother of Kajol was her on-set interaction with Nargis when she played her childhood in
the 1952 Jayant Desai film Amber.
Jayant Desai also introduced Shashi Kapoor as child artiste at the age of 7 in
the 1945 K.L. Saigal film Tadbir. However, Shashi was first noticed when he played Raj
Kapoor as a child in Aag (1948). Then came two major hits, Sangram (1949) in which he was
the 'kid' Ashok Kumar, and 1950's highest grosser Samadhi. His child career ended with a
meaty if brief role as Raj Kapoor's young version again in the 1951 Awara. And it took
over 25 years for Raj to direct his now-adult brother again in the 1978 Satyam Shivam
Sundaram!
Interestingly, most child artistes then were billed at whim in every film. So while Shashi was
credited as 'Shashiraj' in his brother's films, in Samadhi he was 'Sashi Kapoor'.
V. Shantaram, whose Subah Ka Tara (1954) saw his 9 year-old daughter Rajshree debut as
child actor, also cast her again in Stree (1961), though this later top actress did four
big outside films before dad cast her in the lead in Geet Gaaya Pattharon Ne (1964)
opposite new hero Jeetendra!
The Professionals
However, most child stars worked usually out of economic necessities, which again meant either
taking on work as a family responsibility or being persuaded by one or both parents to do so.
Shantaram's niece, later top star Nanda, first acted in her father's Marathi film Mandir
(1948) at the age of 9, and after he suddenly passed away, did several films as Baby Nanda,
beginning with Jaggu (1952), Angaray and Jagriti to support her family.
Meena Kumari began with Leatherface (1939) at the age of 7 and did almost a dozen films
till the mid-'40s as Baby Meena. Nargis, Sanjay Dutt's mother, acted in a few films as either
Baby Nargis or Baby Rani, beginning at 6 with the film Talash-e-Haq (1935). Asha Parekh
started off at 10 with Aasmaan (1952), incidentally O.P. Nayyar's debut, going on to do
several films. After "this musical flop as tall as the sky", as Nayyar admitted once to this
writer, the maestro composed two of his finest scores for Asha's later films Phir Wohi Dil
Laya Hoon and Mere Sanam!
Sridevi acted in not less than a dozen Tamil films, though her only Hindi film as a kid remains
the 1975 Julie.
Urmila Matondkar started off in Hindi films with Shyam Benegal's Kalyug (1981) after a
Marathi debut in Zaakol (1980). Padmini Kolhapure may have achieved fame for Satyam
Shivam Sundaram, Saajan Bina Suhagan, Insaf Ka Tarazu and her nude back scene as the
possessed girl in Gehrayee (1981), but she began at 7 in the small film Ek Khilari
Bawan Pattey (1972), action choreographer Ravi Khanna's directorial debut, and as a child
singer a year later in Yaadon Ki Baraat.
Neetu Singh, now better known as Ranbir Kapoor's mom, again might have got fame
as the twin sisters in Do Kaliyan (1968) but started out when their family was living in
Chennai as 'Baby' Sonia (her real name) with Suraj (1966). Among her later films were
Dus Lakh (1967), in which her future sister-in-law Babita was the heroine, and Bimal
Roy's Do Dooni Chaar (1968) - Neetu was to do a film of that name as the lead in 2010!
Then there was Sarika, Shruti Haasan's mom, who began her first innings with B.R. Chopra's 1967
Humraaz at the tender age of 5. Sarika, as moppet Suraj, would also play the roles of
boys, and her most famous turn was as the title-role of Balak, a blockbuster produced by
B.K. Adarsh, father to Taran Adarsh. Shruti Haasan herself first faced the camera at 14 for her
father Kamal Haasan's Hindi-Tamil bilingual Hey! Ram (2000).
The male side saw names like Aftab Shivadasani, who first 'faced' the camera at 14 months as the
Farex baby! From other commercials, he moved to kid-zone in cinema with Mr India (1987)
at 9, followed by multiple films that included Awwal Number (as young Aamir Khan),
Shahenshah and Insaniyat (as young Amitabh Bachchan!) and
Chaalbaaz.
Kunal Khemu started off in Mahesh Bhatt's 1993 Sir and Hum Hain Raahi Pyaar Ke.
Most of his films were with Bhatt, notably Zakham (as young Ajay Devgn) with some more
films like Judwaa (as the young twin Salman Khans) and Raja Hindustani. It was
Bhatt again who launched him as a hero in Kalyug (2005).
Sachin was one of the biggest child stars of his time, winning the National award, no less, for
his Marathi debut Haa Maazha Marg Ekta, at the age of 4! His Hindi innings began with
Zimbo Ka Beta at the age of 8 and he went on to do at least a dozen major films, with
meaty roles in Majhli Didi, Brahmchari and Chanda Aur Bijlii (as Chanda). Many of
his roles were as the childhood of big stars like Dilip Kumar, Shammi Kapoor, Dharmendra,
Jeetendra and Feroz Khan!
But perhaps the lowest profile young actor was the late Vinod Mehra, who played the young
Kishore Kumar in both Ragini (wherein he enacts the song 'Iss Duniya Se Nirala
Hoon' in the voice of Geeta Dutt) and Bewakoof and the young Bharat Bhushan in
Angulimaal. It was fitting, perhaps, that Kishore became his first adult voice in his
lead debut Parde Ke Peechey!
Children of a different kind
Shahid Kapoor and Ayesha Takia were top child models who later entered films. But there were so
many actors who moved from being busy kid actors to top character artistes - like Daisy Irani,
Farhan Akhtar's maternal aunt (in Naya Daur among at least 20 films), Jalal Agha (who
played Dilip Kumar's childhood in the all-time hit Mughal-E-Azam) Naaz (aka Salma Baig,
best known for Boot Polish, who played the lead in a few small films) and Tabassum, best
known also as a stage anchor and television host (who enacted the hit 'Bachpan Ke Din' in
Deedar).
Similarly, there were a whole lot of artistes, led by Jugal Hansraj (Masoom, Loha ,Karma
and more), Master Satyajeet (Shor et al), Master Aditya Narayan (Masoom, Pardes
and others) and more, whose careers went nowhere as actors.
And let us not forget choreographer Saroj Khan (who was introduced in V. Shantaram's 1952
Parchhaiyan) who actually danced in films like Maya Bazaar and Aagosh - in
which she enacted the song 'Bansuria Kaahe Bajayi'! - at the age of 5! Saroj even became
assistant choreographer at 12 with the 1960 Kalpana!
Lata Mangeshkar acted in Marathi films, composers Laxmikant and Pyarelal played small roles in
Hindi and Gujarati movies and filmmaker Mahesh Kothare (child actor of blockbusters like
Chhota Bhai and Raja Aur Runk) grew up to be a top hero in Marathi cinema,
directing two Hindi films including the 1996 hit Masoom.
Sonu Nigam, is best known for playing young Suuny Deol in Betaab (1983) at 10, though he
made his debut as Mithun Chakraborty the child in Deepak Bahry's Ustadi Ustad Se and
Rakesh Roshan's Kaamchor (both 1982) and essayed Shatrughan Sinha's childhood in
Taqdeer (1983). In 2002, Sonu also did his first film as actor, Jaani Dushmun - Ek
Anokhi Kahani, and he don the hat again soon.
BOLLYWOOD NEWS
Catch us for latest Bollywood News, New Bollywood Movies update, Box office collection, New Movies Release , Bollywood News Hindi, Entertainment News, Bollywood News Today & upcoming movies 2020 and stay updated with latest hindi movies only on Bollywood Hungama.