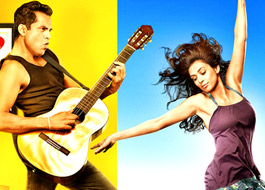 Abhay Deol whose latest film One By Two is on the verge of release has been in the storm of controversy. The actor recently protested against music label T-Series for their practice of signing certain contracts that singers/ composers claim to be damaging. Furthering his fight against these alleged malpractices, Abhay along with the ISRA members, composers and lyricists rallied together for a press conference addressing this issue.
In response to the press meet and media reportage on the issue, President of Super Cassettes Industries Ltd. a.k.a T-Series, Neeraj Kalyan, released the following statement to clarify the record label's stand on the matter...
"First and foremost, T-Series has no privity of contracts with either Mr. Abhay Deol, music trio Shankar Ehsaan Loy, Singers Sonu Nigam and Kailash Kher or Lyricist Mr. Javed Akhtar and few others who may have been present at the Press Conference hosted by Mr. Abhay Deol & others. The stand taken by eminent musicians and their press conference clearly point to an illegal cartelization by certain select groups of Singers, Composers / Writers who are trying to terrorize the Producers and music labels by refusing to execute agreements after having agreed on certain commercial terms and after the Producers have recorded the music or have picturized the songs with huge investments.
We are disappointed that baseless allegations are being made against us in an arbitrary and irresponsible manner completely disregarding our legitimate and lawful concerns as a music label. Certain renowned composers / singers / lyricists working on our home production films have happily signed mutually negotiated contracts with us and they have not found them to be arbitrary / illegal / advantageous to any single party. The Indian Constitution provides for freedom of contract and everyone is free to negotiate commercial business terms within the ambit of the law governing that business / activity and alleging someone to be in advantageous position in a free market scenario reflects the immaturity of parties making such frivolous allegations.
T-Series, as a label, respects and has always respected the rights of authors, composers and performers and has been regularly entering into agreements which are in consonance with the applicable provisions of the Copyright Act, 1957 (as amended) for our own home production films. T-Series works, on a continuing basis, with most producers in the industry and in turn we expect that they would enter into agreements that are, on one hand, in compliance with applicable law, and which also safeguard our mutual interests. We spend a considerable amount of our resources on acquisition of music as well as promotion of the music and the film and bear the entire risk of the commercial viability of the music which we acquire.
Viacom 18 represented to us that they own all the rights for the film One By Two including its music rights free of any encumbrances and solely based on their representations, we acquired the music rights for the said film from Viacom 18 with a clear understanding that they will share the link agreements with authors and composers to complete the chain of title. Viacom 18 has assigned these rights to us and has further indemnified us against any claims or losses and thus the onus of clearing back-to-back rights lies with Viacom 18 and we fail to understand why we are being brought into this mess between the Right holder (Viacom 18) and the Producer (Mr.Abhay Deol). We are yet to receive the contracts establishing the clear chain of title from Viacom and until that happens we are unable to commercially release the said music.
T-Series acquires music rights from the Producers or Studios at mutually acceptable commercial terms and pays substantial upfront payments in consideration of those rights. We are well within our rights to call upon such producers to provide us with appropriate agreements with composers, lyricists and singers substantiating and validating the rights assigned by the Producers to us. We have to always ensure that the rights that we are acquiring from the producer would enable us to exercise our rights as a music label and further enable us to provide the public at large with music through our distribution partners free of all and any encumbrances. It is an undisputable fact that once we have acquired the rights from a producer, the only entity which is at risk is us.
We were further amazed to note that Radio Industry representatives shared the dais yesterday with the Composers and Lyric writers, especially in light of the fact that the same FM radio companies have refused to acknowledge the rights of composers / authors in the underlying literary and musical works in sound recordings and have not been paying any Performance Royalties to IPRS for past so many years. The Music fraternity instead of washing their dirty linen in public should channelize their energies towards increasing the revenue pie size so that the same can be distributed among the entire value chain, be it a Composer, Lyricist, Producer or music label. This entire media bickering is futile as the Performance Royalties for the underlying works embodied in the sound recordings are not being paid by any User, in particular radio broadcasters, and people are unnecessary fighting for non-existing revenue.
When it comes to Singers' rights, the fact remains that Performer's (Singers) rights are freely assignable as per the express provisions of the Act. The terms of the agreements with singers are freely negotiable and subject only to the mutual agreement of the parties. There is no embargo on assignment of Performer's Rights including any right to receive royalties. Further as per the agreements prevalent in the industry, Singers are free to perform live in shows without any reference to the Producers and thus there is no embargo on their right to perform or permission required as is being otherwise alleged. Certain Singers with vested interests, based on their erroneous interpretation of draft singer agreements adopted by many Producers, have been spreading false rumours and trying to dissuade others from signing the agreements. Singers should all appreciate that it is the Producer who is investing in the Songs / Music and it is the producer who pays enormous sums to Composers and lyricists to compose and record songs based on his film's story and then picturizes those songs on a big star cast and who further spends crores on its promotion, whereas a singer merely lends his voice to the lyrics and compositions already created and has little creative input in the song. The same Singer then earns crores by performing those songs in live shows and doesn't share any income with the Producers."


Now adding to the clarification released, President of Super Cassettes Industries Ltd. a.k.a T-Series, Neeraj Kalyan, issued another statement in which he has firmly declared the non-release of the music album of Abhay Deol's film One By Two.


In the statement issued Kalyan says, "We regret to inform you that we have decided to relinquish the music rights of One By Two. Although we had all the rights from Viacom but we are unable to release the music album in the absence of valid link agreements between Viacom and Composers of the album. We wish all the very best to Mr. Abhay Deol for his film."
BOLLYWOOD NEWS
Catch us for latest Bollywood News, New Bollywood Movies update, Box office collection, New Movies Release , Bollywood News Hindi, Entertainment News, Bollywood News Today & upcoming movies 2020 and stay updated with latest hindi movies only on Bollywood Hungama.