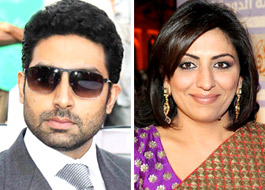 Abhishek Bachchan is the likeliest candidate for the part of the man who carried India, kicking and dragging, into the 21st century.


The Rajiv Gandhi bio-pic to be directed by Bhavna Talwar would now be made with the consent and approval of Mrs. Sonia Gandhi.


While the film's director and her husband producer Sheetal Talwar have zeroed in on a number of British and Indian actors who would possibly play Rajiv (among them Colin Firth, Riz Ahmed and Abhishek Bachchan) it is the casting of an actress to play Sonia Gandhi that's proving more problematic, and a problem that needs to be sorted out at the earliest, since the Talwars would be meeting Mrs. Gandhi next month in Delhi over the Rajiv Gandhi bio-pic to give her a low-down of the content.


Says a source close to the project, "Bhavna Talwar would be making the film in complete harmony with Mrs. Sonia Gandhi. She would be kept in the loop about every development in the project. Now, casting for the Rajiv part which is on the verge of closure can be delayed a bit more. But when Sheetal and Bhavna Talwar meet Mrs. Sonia Gandhi they must be able tell her the name of the actress who plays her."


Explains Sheetal, "It is only reasonable, don't you think? We should be able to inform Mrs Gandhi who is playing her role. We've narrowed down the list to 5-6 foreign actresses. But we can't reveal who will actually play Mrs. Gandhi until we sign her."


We believe Monica Bellucci who was to play Sonia Gandhi in the bio-pic that the late Jagmohan Mundhra was to make, is high in the list.


Says Sheetal, "We are not looking at stars to play Rajivji and Soniaji .We want actors who understand what they stand for. Rajiv changed not just our society in terms of technological progress he changed Indian mindsets. We need an actor who understands the lofty ideals that he stood for."