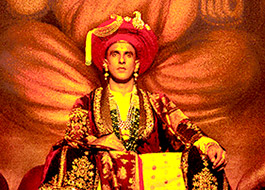 Contrary to reports, the release of the Ganpati song from Sanjay Leela Bhansali's Bajirao Mastani, was never supposed to be a kickoff point for the publicity and promotional campaign for the film.
There were reports that Ranveer Singh and Deepika Padukone were not able to give time for the publicity of the film.
"This is all hogwash. Ranveer and Deepika released one song for Ganpati, which director Sanjay Bhansali had composed specially to coincide with Ganesh Chaturthi. But now, they return to their shooting. The publicity and marketing will begin later after the shooting is complete," says a source from the Bajirao Mastani team.
The source further adds that one month of intense promotion has been planned.
"Deepika and Ranveer will take Bajirao Mastani to places where they've never before. The idea is to spread the film's message to the interiors of Maharashtra, as Bajirao is a hero of the masses in the state," says the source.