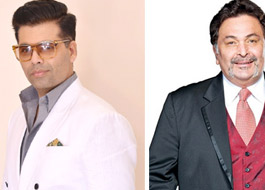 Not one to spare expenses producer Karan Johar has spent a whopping Rs 1.5 crores on getting one of Hollywood's most well-known makeup artistes Greg Cannom to do Rishi Kapoor's makeup in the Shakun Batra directed Kapoor & Sons.
Revealing this startling detail Rishi Kapoor chuckles, "It takes a producer with guts and vision to spend so much money on one actor's makeup. And mind you, Kapoor & Sons is not a mammoth Dharma Production like Kabhi Khushi Kabhie Gham."
Cannom is the makeup artist who has done Brad Pitt's old man's look in The Curious Case Of Benjamin Button and Robin Williams' old lady's disguise in Mrs Doubtfire.
Speaking on how Cannom came on board Rishi Kapoor says, "I was already doing an old man's role in another film. So when Karan and Shakun came to me I asked them how this old man's role can be separated from the other one I am doing. That's when Karan offered to bring Cannom into the picture."
Rishi Kapoor says it was both a challenge and a pleasure to play 90-year old man. "Everybody said this is how you'll look when you get to be 90. It used to take me 5 hours to be made up every morning. But the transformation was amazing. I couldn't recognize myself. Now I've to sit with Shakun and Karan Johar and work on my voice."