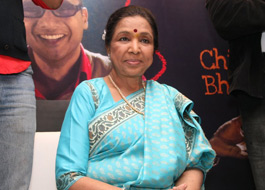 Singing legend Asha Bhosle has entered the Guinness World Records for having the most single studio recordings in the world. Asha, who has been singing since 1947 has recorded up to 11,000 solo, duet and chorus-backed songs in more than 20 Indian languages.
The versatile singer famous for her songs like 'Dil Cheez Kya Hai', 'Dum Maaro Dum', 'Mehbooba Mehbooba', 'Piya Tu Ab To Aaja', 'Chura Liya Hai Tumne Jo Dil Ko', 'Yeh Mera Dil', 'Rangeela Re' and many more was honoured with this award at the Asian awards ceremony in London. This honour earlier belonged to her sister Lata Mangeshkar from 1974 to 1991.
Asha was delighted with the achievement and revealed that she was conferred with this award because of music researcher Vishwas Nerurkar, who had written a book on the veteran singer. She told the media, "I am truly feeling that I am being recognised by the whole world. I always knew that I had sung the most number of songs among all other singers, but I decided to keep quiet about it. I am thankful to Vishwas Nerurkar for tabulating all my songs correctly and providing the correct information to the Guinness authorities."
The singer also thanked her fans for their support and love. "I want to tell all my fans that I am thankful to them for loving me and my songs. I want them to continue loving me and my songs. I also want them to love my acting as well as I have made my debut as an actor in the film Maaee. I want all your blessings," Asha added.
Bollywood Hungama congratulates melody queen Asha Bhosle on her achievements.