Times have changed when it comes to women empowerment and gradually, the people on the whole are realizing that equal opportunities are a must for people of all genders. Yet, a lot needs to be done especially in the places which are away from the mega cities. NAMASTE ENGLAND, which marks the return of Vipul Shah as a director after eight years, throws light on this aspect and also promises to be a beautiful love story. Moreover, it's the second film in the franchise, the first being the much loved NAMASTEY LONDON [2007], starring Akshay Kumar and Katrina Kaif. So does NAMASTE ENGLAND manage to be better than or at least as good as its predecessor? Or does it fail to make an impact? Let's analyse.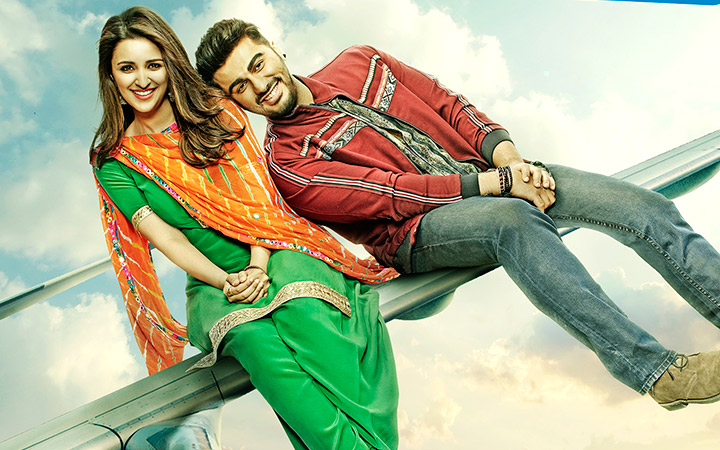 NAMASTE ENGLAND is the story of a couple torn between love and their dreams. Param (Arjun Kapoor) and Jasmeet (Parineeti Chopra) reside in a tiny village in Punjab. Both fall for each other. Meanwhile, Jasmeet, who's interested in jewellery designing, gets a job in Amritsar. She has to work there for three days a week. Jasmeet's grandfather (Shivendra Mahal) is strictly against women working. So Jasmeet hides this bit from him but one day the truth comes out. Param at this point asks Jasmeet to get married to him and asserts that she can work then without any problem. Param's family visits Jasmeet's house to ask her hand in marriage. Jasmeet's grandfather agrees but he has a condition – Jasmeet should not work once she ties the knot. Both ultimately get married and a year later, Jasmeet meets her friend Harpreet (Mallika Dua). She lives in UK with her husband and is very happy and settled. Seeing her, Jasmeet gets a desire to leave India and settle in England so that she can work there and have an independent life. Param is even ready to move there with her and his father also has no issue. The issue however is that Param can't go out of India. On his wedding day, Param has an altercation with his friend Gurpreet (Anjum Batra), who's well connected, and the latter vows that he'll not let Param get a visa of Europe, where the couple were planning a honeymoon. Jasmeet hence devises a plan – she'll move to UK alone at first and after securing residency, she'll be entitled to let Param enter UK. Param is fine with the arrangement. However, Jasmeet hasn't been completely truthful to him. What happens next forms the rest of the film.
Ritesh Shah and Suresh Nair's story is very weak and silly and rests on a wafer thin plot. The story has too many flaws. Ritesh Shah and Suresh Nair's screenplay is juvenile and does nothing to hide these glitches. It's shocking that the duo is associated with some fine films of recent times like AIRLIFT [2016], D-DAY [2013], RAID [2018], MARDAANI [2014] and even NAMASTEY LONDON and yet they collectively penned this apology of a script. Ritesh Shah and Suresh Nair's dialogues are also terrible and dated.
Vipul Amrutlal Shah's direction is haywire and it seems like he has lost his touch. The scenes begin and end all of a sudden and he tries to incorporate a lot. He also tries to repeat the magic of NAMASTEY LONDON, be it during the intermission point or during the scene where Param delivers a patriotic speech. But while the latter sequence was powerful in NAMASTEY LONDON and is still remembered today, the one in NAMASTE ENGLAND looks forced.
NAMASTE ENGLAND has a bit of an awkward beginning. The lovers are shown meeting each other during various seasons and it takes a while to understand that. At this point, Param forces his friend to marry a girl from Jasmeet's group just so that he gets a chance to meet Jasmeet again! This scene itself gives viewers an idea that this film is not going to make any sense. The entire bit of Jasmeet's grandfather refusing her to work even after marriage seems unconvincing but works nevertheless. But the scene that doesn't work at all in this hour is Gurpreet's drama at the wedding. Param-Jasmeet's romance post marriage is cute and the scenes of Gurnaam (Satish Kaushik) help in keeping the interest going although the film has still not gone on a high. The intermission point comes across as a shocker but not for the right reasons. The first half comes across as disappointing while post interval, the film falls further. Param entering UK illegally is an engaging scene but doesn't make any sense. Even worse is Param pretending to marry Alisha (Alankrita Sahai). These scenes, besides being nonsensical, are not even funny or moving. Also the film gives a very wrong message and tries to project that immigration is a bad idea and that's certainly not true. Also, the film ends at an abrupt point and all the conflicts of the film don't end even when the credits roll.
This isn't Arjun Kapoor's best act and his performance leaves a lot to be desired. He looks haggard and a bit overweight in some scenes. Parineeti Chopra is however better and puts up a great act. Sadly, she is letdown by terrible writing.  Aditya Seal (Sam) has a fine screen presence and makes an impact. Alankrita Sahai (Alisha), last seen in the recently-released web film LOVE PER SQUARE FOOT, looks sizzling and does fine. Satish Kaushik is over the top and the way he says 'Darling' in every sentence is not funny. Same with Shreya Mehta (Mitthi) who makes a sound at the end of each sentence, a la Nawazuddin Siddiqui in KICK [2014]! But she puts a confident act. Anil Mange (Iqbal Khan) is decent. Pratik Dixit (KG, the British Born Indian origin guy) is laughable. Mallika Dua is good and probably is the only funny character in the film. Anjum Batra, Shivendra Mahal, Hobby Dhaliwal (Param's father) and Vinod Nagpal (Sam's grandfather) are okay while the actor playing Harpreet is damn good.
Mannan Shaah's music is okay with some songs working while the others being a disappointment. 'Dhoom Dhadakka' is very catchy and foot-tapping. 'Tere Liye' comes next. 'Bhare Bazaar' doesn't work and it's abruptly cut into half. Prasad Sashte's background score is over dramatic. Yiannis Manolopoulos's cinematography is appropriate but nothing special. Sriram Kannan Iyengar and Sujeet Sawant's production design looks superficial, especially the houses in Punjab village. Aki Narula, Sanjana Batra and Gayatri Thadani's costumes are nothing special initially but the ones worn by Parineeti in London scenes are appealing. Amitabh Shukla's editing is horrible.
On the whole, NAMASTE ENGLAND is an extremely poor fare and is riddled with a terrible script and a juvenile screenplay. At the box office, it will face a tough time and will not find favour with the audience.