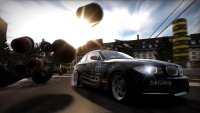 The NFS franchise has been in a rather placid stage, especially for the year or two steeping lower than ever, with mild response towards the NFS Pro-Street release. So, in lieu of the erroneous situation, and EA decided to hand over the wheel to Slightly Mad Studios, the faction behind the PC racing series GTR, to fabricate Need for Speed Shift, which fortunately, turned out to be a rewarding gamble. With so many things done precise in terms of design, this seems like a sparkling new take on the simulation racing genre in ages. Slightly Mad made some very careful selections in deciding the realism factor of the game, and the end outcome is that the team effectively gives you a racing experience that is exceedingly near the real thing in terms of arrangement, while keeping the game controls just typical enough to permit novices a much simpler entrance into the title.


NFS Shift bring us back to the track-based racing like its old titles (as far as I remember maybe till NFS 2, and of course Pro-Street of lately) rather than the open-world scenario witnessed in the modern titles. You'll find pivotal tracks like Laguna Seca, Willow Springs, Nurberg-ring as the setting to your races, each to be have been brought to life brilliantly. They might not be cent-percent accurate compared to their real counterparts, however been slightly twisted to offer a more undeniable outlook in sections that were a bit dull, but the course blueprints are certainly intact.. Given the cluster of tracks in the game, somewhere around the 20 track in all, it's of little revelation that just about every meter of tarmac in the game is amusing to drive. There's zero story involved in this title, unlike most of the recent releases. The only thing you'll start off with is a narration that you'll hear at the beginning of the game, informing you that you've been given an opportunity to establish yourself in a BMW M3 around Brands Hatch before winning some money and then select your own ride. This is pretty much as pure of a racing game as you might find out there. This experience is not a drab; rather, there's incredible and somewhat distinctive music in the menus, a usually glossy interface everywhere and a few trendy videos to establish new events. All of that is great, but fades in comparison to what happens when you get behind the wheel of a car - The cockpit view is what makes NFS Shift be prominent from the extremely competitive racing genre. Slightly Mad has shaped an astonishingly superior cockpit view for the title, something that makes you feel like being behind the wheel of fuel burning Super car.


The developers have added another great gem to the title - an extremely dynamic and visually appealing camera, which enables the view to blur and undulate vaguely when the gas or brakes are applied. Sitting at the starting line and roaring the engine rocks the vehicle back and forth, and hitting the brakes at a stiff corner will throw your view forward towards the dashboard. Luckily, it's not scalded to the point where it'll make you throw-up; it's restrained enough to let you know that it's happening, but may forget about it after a while. Probably the coolest specks come when you crash, as your view is flung around, the colors die away (till you recover back) and your vision blurs. This brilliant cockpit view broadens to the game's sagacity of speed. When you get behind the wheel of a Zonda R, Bugatti Veyron, Koenigsegg CCX, Mustang or BMW M3 GTR, you will actually consider taking your finger off the gas in a slight bend because you'll feel the car starting to get loose. Slight flutters on the road, that were formerly unfelt, will cause your car to lose traction for a split-second, enough to smash it into the wall. It's a staggering feeling; one that's unusual in racing games and is certainly one of the biggest elements that detaches real driving from its virtual counterpart.


The brilliance comes out once you realize that Slightly Mad has done an incredible job of deciding which elements of the game have to be pragmatic and the other way round. They've done a great work with the dynamic mechanics of the cars, so much that the margin between being in or out of control is way closer to your car's limits than it would be in a more hardcore simulation title, allowing you to thrust your rides further than you would else be able to do without a need of an extreme amount of skill. But, to get those last few horses to transit for you, you'll still need to really chew over in your abilities. So the end result is that it's easier for novices to be able to push their vehicles, but also having an element of needing to practice and grind your skills to be better.


The Sound is simply awesome. A lot of other titles have great engine samples, fine crashing effects and so on, but extremely few actually get the mix of all of this just right to tinkle your ear-buds. |The squeals sound of burning tires on the tracks makes you feel like the rubber is alive and being torn from the axel. It's a raw sound from the crude machine from underneath your car, and there's no racing game on the market transmits this suitably. Need for Speed Shift is actually music to a Hardcore Racer's ears. There's no better feeling than listening to a 600+ horsepower machine, raging and roaring in the back seat, trust me. This is how sound should be. The AI too holds up to the title's credible. Need for Speed Shift isn't the most accurate racer around. The handling, feeling of weight and all isn't as precise as you'd find in the Forza or Gran Turismo. One area to be worked on, in terms of the driving mechanics, is with the drift events. Here, the physics simulation feels totally different, and hitting the gas will cause your ride to whirl out, even at the starting line. Vehicles are tuned to be very greasy and it's your job to be alert and slither them through the turns. Fortunately, the career mode is crafted in such a way that you can pass over these events without much of an issue.


The career mode is designed in a rather gleaming way hat it rewards you for pretty much anything. You'll earn stars for your finishing places in events, gathering points while racing and fulfilling a special per-event goal. These stars mount up over your career and unlock the successive tiers in the game. You also earn Profile points by satisfying small elements in the game like Sticking to the racing line, taking corners well, Drafting, Overtaking, banging into a car and so on. While stars unlock more events and new cars, profile points net you superfluous parts for your cars, extra cash and even a few free cars.

The career mode isn't flawless, though. One hitch is that there are only 60-some-odd cars in the game. But the selection here is great though, so you'll undeniably find something that suits you. There's a fairly distinct best car in each class, and assuming you have enough bankroll when you unlock a new class, buying that car pretty much negates the requirement of buying any others. You can improve and tweak any car in the game to stay viable. Luckily, the game does blend things quite a bit. There are specific events where you're given a specific car to drive; so if you don't end up buying one, you'd certainly get a chance to drive you'll drive it a few times in events that feature it. The career mode seems to be more of a check list or should I say, a "to-do list" in most terms rather than leaping around, experimenting different stuff and building up your stable of cars.


The online mode for the game doesn't present a huge number of options, but it's really fun. There's a fundamental Quick Race option which is pretty much exactly what you'd expect. And then you have a Driver Duel mode, which can be compared to a King of the Hill match. There are a few levels in the ladder that you're trying to climb, and you start at the bottom face off against another racer at the same level. You'll both be put in the same car and track, matching the level that you're on. The exciting thing here is that if you lose, you drop all the way to the bottom. It's amusing and quick enough to keep you going for a good while.


Need for Speed Shift is a splendid return to greatness and excellence for EA's influential racing franchise. Slightly Mad Studios has brought out a driving experience that might not be absolutely accurate in terms of its simulation, but is practically spot-on in terms of what it's like to race around some of the world's best racing circuits.
BOLLYWOOD NEWS
Catch us for latest Bollywood News, New Bollywood Movies update, Box office collection, New Movies Release , Bollywood News Hindi, Entertainment News, Bollywood News Today & upcoming movies 2020 and stay updated with latest hindi movies only on Bollywood Hungama.