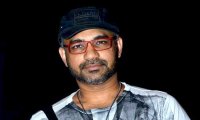 A hot-shot professional when it comes to the world of advertising, Abhinay Deo is not new to going behind the camera. Boasting of 14 years of experience when it comes to advertising, making a full length feature film was an obvious next step for Abhinay. His Game has just released and naturally, Abhinay is looking forward to reactions for his first ever big screen outing. In a conversation with Joginder Tuteja, Abhinay talks about what went in his mind when he started working on the film.
A slick action thriller with a suspense drama to match - Is it just the right kind of recipe you wanted to put together for Game?
Yes, though I would prefer to get the 'suspense' part earlier in the statement (smiles). It is basically a suspense film with action, thrills and drama following a little behind. Basically I wanted the genre of whodunit to be back in Bollywood.
I am sure you would have been inspired by the 60s when such films were in vogue both in Bollywood as well as Hollywood.
Exactly. Think whodunits and remember Teesri Manzil. Obviously I too was influenced as a child. In fact there have been so many incredible murder mysteries that have originated out of Bollywood. I wanted to bring it all back in a fresh new packaging. This is where styling and cutting edge treatment came into picture. As for action, Game doesn't have it in abundance but wherever it does feature, it leaves a mark. There is a definite finesse to it, something which is generally not found in Bollywood. So yes, going back to your first question, the idea was to get the recipe right in a genre which has been almost forgotten.


I wanted to bring murder mysteries back in a fresh new packaging

Still Abhinay, number of times it does happen that while on the exterior a film does look good, the impact isn't as arresting when the drama actually unfolds in those two hours. Have you ensured that Game doesn't fall into that trap?
In fact let me be very candid on this factor. See, I am a believer of the basic principle that look and feel of the film should be complimenting the subject matter. Ultimately it all boils down to what story we are telling here. Script is the hero of the film, not the star. Of course when you garnish it with a certain look and feel, it does add value to the story telling. Further to that there are the stars and performances which heighten the overall impact. Game boasts of a story which is completely original. Also, we have been genuine in our approach, something that will keep audience on the edge of their seats.
I guess another factor that should keep audience interested is debutant Sarah Jane Dias. Looks like she is one young woman out there who is uninhibited in front of camera when it comes to skin show. That must have been of great help for you to further make Game a hot and cool affair?
I don't think with Sarah it was a matter of her shedding her inhibitions. After all, she is just playing a character in the film and as an actor she is mature enough to understand what is needed for a role. She understands that gravity for sure. As for the film being a 'hot and cool' affair then well, it doesn't really have much explicitness to it that would have worried Sarah. Everything is done quite aesthetically and she never came complaining to me that 'Oh my God, what am I doing here' (laughs).


I don't think with Sarah it was a matter of her shedding her inhibitions

As a filmmaker though did you have any complains since the film has been shot in five different countries. It must have been a logistical nightmare after all, isn't it?
Don't remind me of that (laughs). We were dealing with 5 different countries and each of them had its own seasonal issues. Quite some planning went into how to finish shoot in one country and move to another depending upon the climate there. We battled winters, extreme summers, snow and rain. Meanwhile with such a huge cast we also had to keep dates of everyone in mind. When I look back, I think we really managed something remarkable in pulling it all off.
In fact I am led to believe that the film was supposed to release much earlier. What led to the delay?
See, if you feel that end of principle shooting means end of filmmaking then that's not really the case with Game. Yes, we did start in last January and ended the shoot by July which would have given you a perception that we are coming late. But then there was quite some effort required in post production and especially the editing. Initial planned release for Game was January this year but I guess we were just being a little too optimistic. After January, the next best release timing was now as we wanted to come only at the culmination of World Cup. So yes, I guess we are right on time here so no complains!
BOLLYWOOD NEWS
Catch us for latest Bollywood News, New Bollywood Movies update, Box office collection, New Movies Release , Bollywood News Hindi, Entertainment News, Bollywood News Today & upcoming movies 2020 and stay updated with latest hindi movies only on Bollywood Hungama.