Imagine a scenario where Bollywood heroes start talking in Marathi. Well, this isn't all that has happened, but it has gone much beyond that! Before you start racking your brains any further, let us clarify that we are referring to an incident that had occurred on the sets of Akshay Kumar's forthcoming film Khatta Meetha.


All of us are aware of Akshay Kumar's excellent Marathi speaking skills and this time he is putting it to good use for his upcoming comedy Khatta Meetha. He plays a Marathi manus named Sachin Tichkule in this comic caper directed by Priyadarshan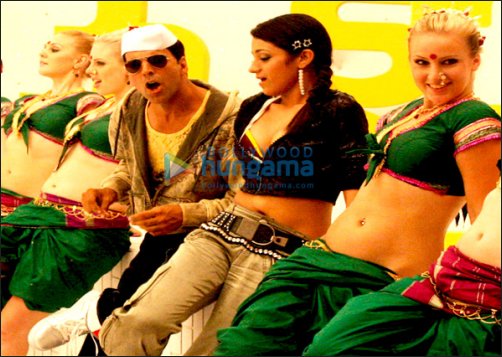 Akshay will now be seen singing the song 'Nana-chi Taang' (which means 'Teri Aisi Ki Taisi' in Hindi) along with his co-star, newcomer Trisha in the film. The song set to the tunes of the ace music composer Pritam, who, the insiders say, has done a marvelous job of combining rock with a tinge of our very own Maharashtrian tadka. According to Bhushan Kumar of T-Series this song will be the biggest hit of the year.


We must say that we are waiting with bated breath to see Akki baba work his magic all over again! Kaay, Akshay, barobar na?