"Talaash is not a thriller; it's a suspense drama with emotions" - Reema Kagti Part II
By Devansh Patel
, Nov 12, 2012 - 11:57 IST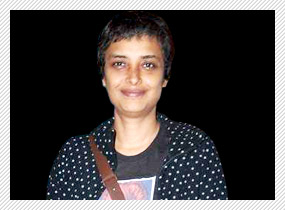 Come November 30, suspense will reach unbearable heights as Reema Kagti's team of terrific ensemble try to search their answers to the puzzle called Talaash. In the great tradition of tough guy film-makers, Reema is one of the finest living crafters of defining genres - her latest being a thriller but as she subtly adds, "It's not a thriller, it's a suspense drama filled with lot's of emotions." That's how she describes her film. But the good thing about Kagti is that there isn't any false suspense in her. Hearing her talk you are damn sure of the fact that she isn't a writer / director who would make you think something important is about to happen, and then the "prowler" turns out to be the heroine's cat. All said, but audience across India and the overseas is waiting breathlessly to see Talaash, it's more like to turn to that vital last page of any suspense drama book to enjoy the thrills. The question is - Will Reema make this her 'Best-Seller'? Part 2 of my chat with Reema Kagti continues....

'Jee Le Zara' from Talaash is my new drool. But tell me; was Aamir instrumental in bringing Ram Sampath on board?
Thank you! Yes, Vishal Dadlani has done a great job singing that. It wasn't just Aamir who recommended Ram Sampath to me. It was also Farhan. Ram had worked on Game. Nobody forces you to work with someone. We sit down and brain-storm. We were putting together the names of music directors and Ram was the unanimous choice. I don't think Aamir does things like that. When I met Ram, I felt the instant connect. We have similar sensibilities. Talaash music isn't about creating sensational item numbers but to arriving at the songs. If you miss out on a song, you may miss out on some vital information. We've made sure the music is a part of the narrative. Songs can also create suspense.

What's the most challenging thing about making a suspense drama?
The most challenging thing about making a suspense drama is to convince people it's not a thriller (laughs). When you have a lot of suspense, it naturally becomes a thriller but in Talaash, even though there is a lot of suspense, it's the core of the film that's very emotional. At the end of the day, it's a drama. It's an unusual genre and I do have an upper hand.

What kind of movies inspire you?
Inspiration comes from all kinds of places. In the recent past, the film that shook me was a Turkish film called Bullhead. I saw the film two months ago and bits and pieces still have stayed with me. I went for the Dimensions Short Film Festival. I had to go through twenty five films out of which five were really good. These were under twenty five year old kids who've managed to make movies. That's inspirational.

Rani and Kareena, both diametrically opposite each other in personality but on screen, both are fiery, aren't they?
A lot of good performance is good casting. It's like half the battle won. Rani and Kareena, both have separate approaches. Both are accomplished and have complete control on their craft. Both are precise and exact. As a director, I am really dependent on my cast and crew to bring out what I'm trying to say. I feel Rani and Kareena and communicate anything. Give it to them and see the magic on screen.


Aren't you proud of the fact that you are one of those few women directors who has stood tall as a writer too?
Traditionally if you see, we live in a patriarchal world. Let's not look at the Hindi Film Industry in isolation. If you see the number of women in the work force across all professions, you'll find more men than women. This is a hard job to do. It's a crazy lifestyle too. Having said that, I don't consider this to be a man's world. It's people's perception. I have been in this industry since 18 years and people keep asking me what prejudices I've faced. Honestly, I haven't faced any problem on the basis of my gender. The problem I feel is with my personality and my thinking, sometimes (laughs). So being a woman director I do feel proud. But in this country, overall, it's a shame that we as a nation don't make any sort of effort to protect women against violence. I feel our justice system is encouraging people. This country has a huge divide in its demographics and people don't understand this new independent working woman. I hope they do in the near future.

What fascinates you about a man in this man's world then?
To tell you the truth, I think as an industry we are fascinated with male dominated subjects / stories. That's where the budgets are, sadly. I would love to pen a biopic but give me an interesting story, be it of a man or a woman and I'll do it convincingly.

Would you love to direct Farhan someday?
I would love to direct him and I've been trying to do it for several years. He is a slippery character but I am not ready to give up. With Milkha running so fast, I hope I get my hands on him (laughs). Farhan had gone somewhere and Zoya and I were watching that. This is during ZNMD. We both started laughing. It's very hard for us to see Farhan in this mode. I've been trying to cast him for years because he is a great performer. During our A.D days when Zoya and I got bored, we used to call Farhan and make him entertain us. He used to do his stand up comic acts. I always felt from those days that this guy should act.

In Talaash of something else after Talaash?
Yes. Actually I'm already working on it. I'm writing one film for myself to direct and the other for Zoya to direct. We both are writing together too. I am thoroughly hoping that this time it won't be such a long break and I direct one soon after Talaash.

Click here to Read Part 1 of this interview

Watch Song Promo: Jiya Lage Na (Talaash)